Content
Buried Treasure – panning for gold in Edmonton's river valley
By Brandon Nadeau, Security Supervisor, and Melissa Bowerman, Assistant Curator, Geology
September 7, 2022
Most people think the only link between Edmonton and gold is the fact that it was situated on one of the routes to the historic Klondike Gold Rush. But Edmonton has its own direct claim to gold with its own gold rush that predates the Klondike. To this day, many people continue the search for gold in the North Saskatchewan River valley.
Gold is found either as lode gold within solid rock or as placer gold which has been eroded and moved by water and deposited in sands and gravels. In Edmonton, gold is often found in tiny flakes less than half a millimetre across known as flour gold. Flakes of platinum are also present in the placer deposits along the North Saskatchewan River, though in smaller amounts relative to gold.
The first report of gold in the North Saskatchewan River was made in 1859 by James Hector of the Palliser Expedition who was shown samples of gold found near Fort Edmonton. News of the discovery spread quickly and soon a stampede of gold prospectors arrived to seek riches from the riverbank. Early operations used gold pans or a type of sluice box called a grizzly (See photo above - Provincial Archives Historic Photo 5280).
Image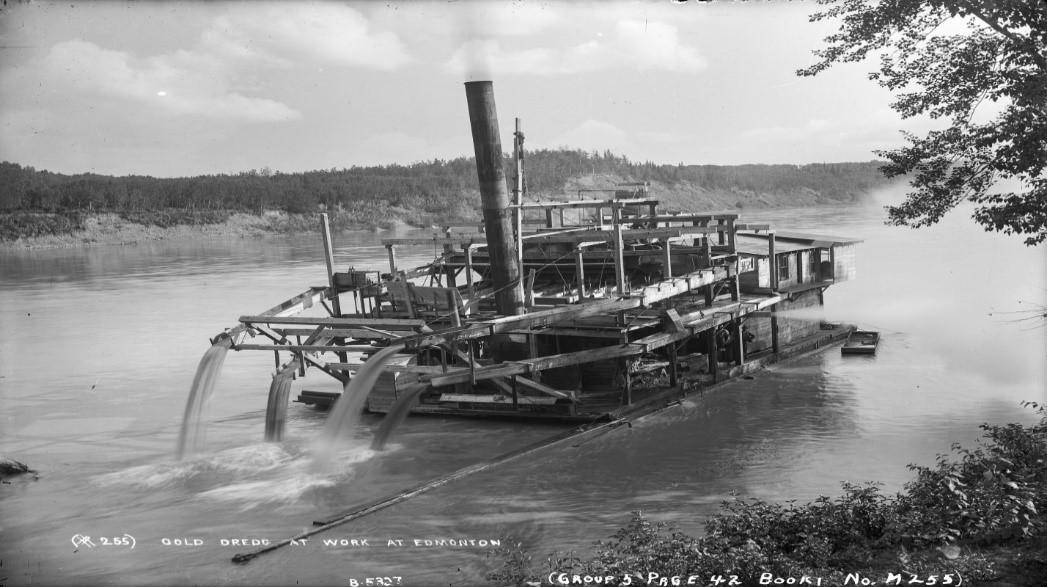 By the early 1890s, locally-made floating mechanical dredges were used to process huge volumes of submerged river sediment. The heyday of placer gold mining in Edmonton began in 1895 when American and British investors backed the construction of even larger steam-powered dredges (Photo above – PAA B5327). There were as many as 300 miners living and working in the North Saskatchewan River valley at that time, according to reports by George Mercer Dawson. The boom was short-lived and with the remarkable discovery of gold in the Klondike, most of the miners moved north. Of the 12 dredges operating in 1898, only one remained by 1907. Today, large-scale gold recovery still happens as a by-product of aggregate (sand and gravel) mining in central Alberta.
 The source of flour gold found in the North Saskatchewan River has long been unknown, with both the Rocky Mountains and the Canadian Shield as possible places of origin. This changed in 1987 when gold was found in 500 million-year-old bedrock exposed in Jasper National Park. The gold is not found in high quantities, but enough has eroded out to end up concentrated in the sands and gravels of the North Saskatchewan River.
Image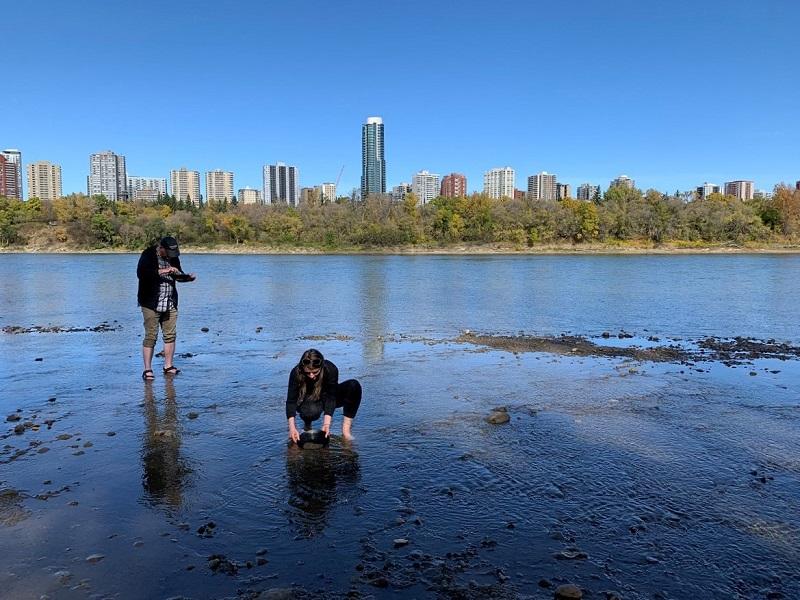 Gold remains highly sought after, and so panning remains a popular pastime, with interest fluctuating in accordance with the price of gold. Gold panning requires not only skill but also an understanding of the local geology. Placer gold accumulates where the water slows down, in river bends and where banks widen. When water slows, it drops heavy minerals like gold and platinum. Well-known North Saskatchewan River hotspots include Terwillegar Park, Emily Murphy Park (as pictured in the photo above), Prospector's Point in Devon, and where the river intersects with Gold Bar Creek. Other rivers in Alberta with gold include the Red Deer River, the McLeod River, the Athabasca River, and the Peace River.
Image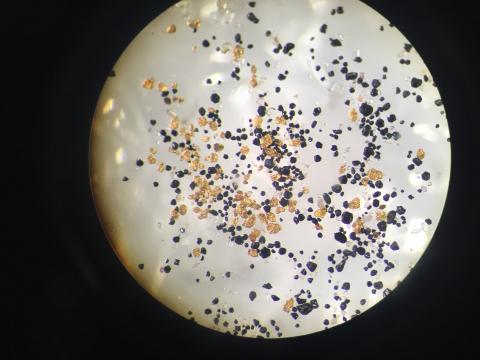 Gold flakes from the North Saskatchewan River viewed through a microscope
Gold panning is a fairly inexpensive hobby that can be enjoyed by all ages. A license isn't required unless sluice boxes or other mechanized equipment are used, in which case a license must be obtained from Alberta Energy. For more information about gold panning in Alberta, see the Alberta Ministry of Energy placer mining toolkit. Those looking to experience gold panning up close can find events held by the Alberta Gold Prospectors Association and the Edmonton Geological Society.