Content
A Pudding by Any Name: La Pouchine
Skye Haggerty, Indigenous Student Museum Intern (pictured below)
December 21, 2020
Image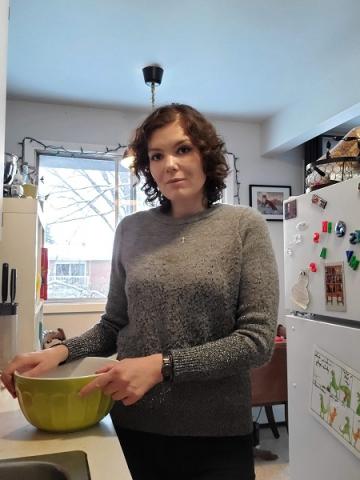 There are many names for the steamed pudding my mom described during my last visit with her. What she calls la pouchine is also known as pouchine-en-sac, la poutine dans le sac, or (as my aunt calls it) lapochim. I set out to make this traditional Métis dessert with the intent of satisfying my own curiosity after my mom mentioned it during one of our many talks about cooking. When I said I had never heard of it, she told me she used to make it all the time. How could I not remember such a dish? 
I recalled finding a muslin sack in our kitchen drawers as a child, but had no recollection of a steamed pudding cooked in soup, gently simmered for hours.
The closest I had come to this mysterious dessert was the fluffy soup dumplings we ate with syrup after they cooked over a stew. A hunt began for the elusive pudding. My mom eventually located her recipe, but like most family recipes, it came only with vague instructions. I learned to bake under her supervision, but this would be the first family dish I would learn on my own. Or so I thought. I was surprised when this wasn't the case at all.
I spoke with my mom over the phone on how to make it. I didn't have a pudding bag or suet (which is more traditional). She assured me this was fine, and that the spirit of it was making the best with what you have. 
During a recent call, my uncle shared with me that he used to help grandma make it. Suddenly, I could see him as a boy mixing ingredients at a table much like I did growing up. An aunt also reached out on social media with some helpful advice when I expressed doubt about the process. It was nice to connect over something as simple as a recipe and share the experience.
Growing up, everyone was always welcome to help or watch in our kitchen. As a Métis family, we show friendship and love through sharing and gifting. No matter where we live, or how far apart, every time I cook I am drawing on what my mom taught me, and what her mom taught her too. It is a feeling and tradition that stretches back generations. 
And, there is nothing so rewarding as to give something you've made. Even if it's sending them a picture, instead of a slice.
Truly a pudding by any name, this Métis recipe varies, as well from family to family. It is incredibly easy to make.
With its adaptive structure, you can easily substitute the dried fruit for anything on hand or swap the lard for something more convenient. One can imagine it being pulled from a pot over a fire (though we have stoves and ovens now) and enjoyed after a hearty stew. In the wintery months, my grandmother would make two of these puddings. One for the holidays and one for the New Year. She liked to add canned pineapple and diced fruit similarly to a fruitcake. It's not necessarily the ingredients that make something traditional: it is the story that comes with it.
What kinds of stories go hand in hand with your family recipes?
Make your own La Pouchine
Ingredients
Image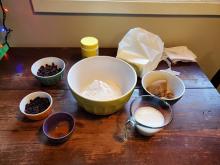 1/2 a cup of lard (or beef suet, chopped fine)
1/2 a cup of brown sugar
1 cup of raisins
1/2 a cup of currants
1 teaspoon of pastry spice
2 cups of flour
1/2 teaspoon of salt
4 teaspoons of baking powder
3/4 cup of milk
 
Mix flour, salt, and baking powder together. Cut the lard into the flour with a pastry blender or a fork until incorporated. Add in your raisins and currants (or whichever fruit of choice). Add sugar and milk. Mix until just combined and no flour streaks remain. Do not overmix.

Image

Prepare a pudding cloth (or a pudding bag big enough to hold 6 cups) by wetting it and flouring. You can use any undyed muslin or cotton cloth that is a minimum of 20" by 24". Fill it with the dough and gather at the top. Tie it off with butcher's twine and leave two inches space for the pudding to expand.
Place the sack in a deep pot of simmering water and cover. The water should be deep enough to fully cover the pudding when submerged. The excess cloth can stick out from the water. Cover and simmer for 2 ½ to 3 hours.


Image

Try not to check on it too much – lifting the lid will let heat and steam escape. Don't be surprised – it will float after the first hour!
In the last ten minutes prepare the sauce.
Sauce
1/2 a cup of sugar
1 tablespoon of cornstarch
1 cup of boiling water
2 tablespoons of butter
1/2 a teaspoon of vanilla extract (or any extract you like)
Mix sugar, water, and butter in a small sauce pan over medium heat with a whisk. Make a slurry with the cornstarch and a few tablespoons of cold water.
When the sugar is melted, whisk in the vanilla extract and slurry. Make sure to keep whisking! Cook until the sauce thickens slightly. It will be a very thin sauce.


Image

Carefully remove the pudding from the pot and place on a plate. Let it sit a few minutes before unwrapping and removing the pudding cloth for washing. Try not to burn your fingers, it stays quite hot!


Image

Cut and serve with the sauce or any syrup you prefer.
Image