Content
Next stop: Nashville
April 25, 2020
From the upbeat reels of fiddlers at a lively kitchen party to quiet songs sung by mothers to their fussy babies, from electronic powwow music to hand-game drumming - there's no doubt that Indigenous music is diverse.
As we near the end of April - International Guitar Month - we pulled out some of the music-related objects from the Indigenous Studies collection.
Harry Rusk
Image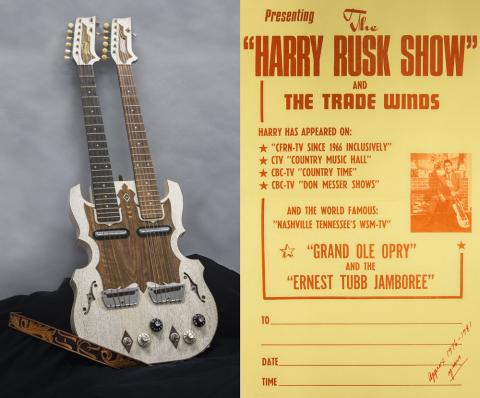 Harry Rusk was born to Edward and Mary Etsuka in Kantah, a small Dene community near Fort Nelson, B.C. As a teenager, he contracted tuberculosis and was sent to the Charles Camsell Indian Hospital in Edmonton, where he spent four years. A chance encounter there changed the course of his life.
Hank Snow, famed country music singer, visited the wards in 1952 - and inspired Harry to become a singer and guitarist. His mother bought him his first guitar with money she earned sewing moccasins and mukluks for the Hudson Bay Company.
Rusk learned leather tooling and some electrical work in the hospitals' handcraft program - he used both of these skills when creating this double-necked electric guitar, pictured above. He built it from laminate, using his own design, and used it throughout his incredible music career. The top neck is actually a mandolin and the bottom a standard guitar. Rusk would eventually become the very first Indigenous musician to take to the stage of the historic Grand Ole Opry concert hall in Nashville, Tennessee. He became a familiar voice for many, hosting musical-themed radio shows in Alberta and BC for many years.
Mr. Rusk donated his collection, spanning the course of his life, to the museum in 2018 including an album of his '45 vinyl records, the guitar strings he used during his performance at the Opry, and this impressive self-built instrument.
Archie Calliou
Image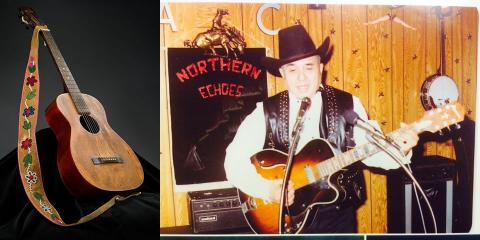 Archie Calliou led an extraordinary life. Born in 1924 to Dave Calliou and Clarisse Campbell, he joined the military at age 16 in order to serve in the Second World War. He was a trapper, a farmhand, a soldier, a salesman, an entertainer, and an addictions counsellor at various points in his life. He founded the Grande Prairie Friendship Centre and he was passionate about music - it took him to Nashville in the 1970s where he also played for the Grand Ole Opry.
He could play, according to his son Mark, absolutely anything with strings. His violin, his performance outfit in this photograph, and this beaded floral guitar strap are all on display in our Human History Hall. The guitar was a gift from a fellow country musician: Wilf Carter.
Listen further
Looking for more great Indigenous musicians? Check out these playlists of Indigenous musicians on Spotify: