Content
Hatti's Harlem Chicken Inn
February 5, 2020
Image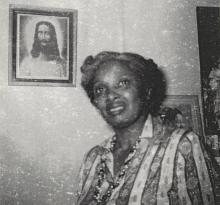 A half-century ago, if you stood on the doorstep of the Royal Alberta Museum, you would have looked down what was then 98th street to Hatti's Harlem Chicken Inn. From the outside, it may have appeared to be an unassuming restaurant. But for Edmonton's Black community, Hatti's was more than just a chicken joint –it was a meeting place, where culture and community flourished.
The story of Hatti's Harlem Chicken Inn is all around us: in local community history books, online articles, in personal testimonies, in photos and newspaper articles, in the memories of those who knew Hatti and her restaurant. Threads stretching out in space and time, and precious ones at that. In this episode of Intangible Alberta, Mat interviews Hatti's family, community members, and local historians to try to gather these threads, to weave visible what might otherwise be subtle and hard to see.
Listen below, or wherever you get your podcasts.
Intangible Alberta is a production of RAM, in partnership with the Strathcona County Museum & Archives.
Learn more about Hatti's Harlem Chicken Inn and the legacy she left behind on our blog.